Our 2008-2009 Concert Schedule:
Please check back often for updates to our schedule and programs.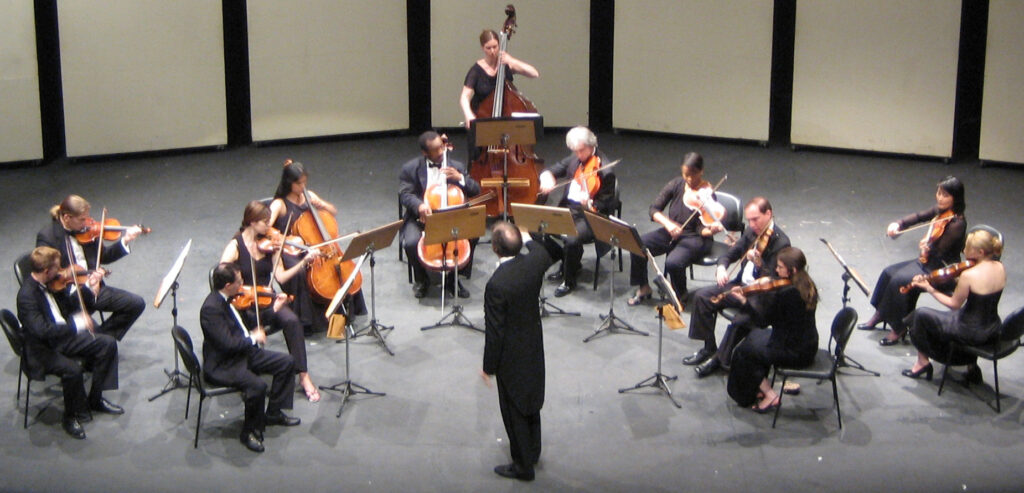 Teatro Centro de Convivência, Campinas, Brazil
November 7, 2008 – 8pm
Haas Stage at the Arden Theater Company
Philadelphia, PA
Daniel Spalding, Conductor
"ON THE EDGE"
Tickets, including a VIP/Meet the Artists option, are available Online
For one night only, the Philadelphia Virtuosi under artistic director Daniel Spalding will transport you into a new dimension as they perform dynamic and eclectic works covering three centuries.
Using the prestigious Arden Theater, award winning lighting designer Joshua Schulman will channel his dramatic visual style to transform the theater, setting the stage for an interactive night. It's a night where the Virtuosi will leave behind the traditional setup and transform the entire space of the theater into their stage. We can't tell you more – you'll need to see it for yourself.
Works by Bach, Mozart, Lekeu, Shostakovich, Reich and the world premiere of "Variations of Madness" by Kurt Coble and his P.A.M. Band (Partially Artificial Musicians).P.A.M. Band (Partially Artificial Musicians).
January 29, 2009
Big Arts Great Performers
Sanibel, FL
Daniel Spalding, Conductor
Gabriela Imreh, Piano soloist
Mozart – Divertimento in D, K. 136
Bach/Stokowski – Air on the G String
Bach/Stokowski – Preludio in E
J.S. Bach – Piano Concerto No. 1 in D minor
Tchaikovsky – Souvenir de Florence
January 31, 2009
The EMMA Concert Association & Flagler College
Flagler College auditorium
St. Augustine, FL
Daniel Spalding, Conductor
Gabriela Imreh, Piano soloist
Mozart – Divertimento in D, K. 136
Bach/Stokowski – Air on the G String
Bach/Stokowski – Preludio in E
J.S. Bach – Piano Concerto No. 1 in D minor
Tchaikovsky – Souvenir de Florence
March 22, 2009 at 2:00 PM
Kupferberg Center for the Arts
CUNY Queens College, New York
Daniel Spalding, Conductor
Gabriela Imreh, Piano soloist
Mozart – Divertimento in D, K. 136
Bach/Stokowski – Air on the G String
Bach/Stokowski – Preludio in E
J.S. Bach – Piano Concerto No. 1 in D minor
Tchaikovsky – Souvenir de Florence
May 16, 2009
Danbury Concert Association
Ives Concert Hall, Western Connecticut State University
Danbury, CT
Daniel Spalding, Conductor
Leslie Johnson, Soprano soloist
Mahler/Schoenberg – Lieder eines fahrenden Gesellen
Mahler/Stein – Symphony No. 4
Strauss/Schoenberg – Kaiserwalzer
May 22, 2009 at 12:15 pm and 1:30 pm
Trinity Episcopal Cathedral
801 West State Street
Trenton, New Jersey
Daniel Spalding, Conductor
Youth Concerts featuring music from Leonard Bernstein's West Side Story
(Sponsored in part by the Frank & Lydia Bergen Foundation)
November 21, 2009
Corning Civic Music Association
Corning, NY
Daniel Spalding, Conductor
Program to be announced
November, 2009
Tour in Spain
Organized by Hispania Clasica
Daniel Spalding, Conductor
Cities and Program to be announced