Music Director: Daniel Spalding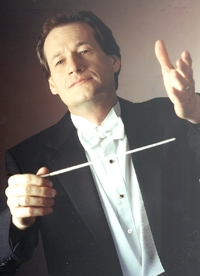 Daniel Spalding brings to the podium a versatile and complex musical profile. With emphasis in percussion and composition, he earned B.M.E. and M.M. degrees from Northwestern University and subsequently held teaching positions at several universities, becoming nationally known for his work as a percussionist, composer, and pedagogue. After a few years, having decided to pursue a conducting career, he continued his studies with Dr. Harry Begin at the University of Illinois, with Ferdinand Leitner in Austria at the Salzburg "Mozarteum," in Romania with Mircea Cristescu of the Bucharest Philharmonic, and in Philadelphia with Max Rudolf. In 1985 he made his European debut with the Romanian State Philharmonic in Cluj-Napoca and was shortly afterwards appointed principal guest conductor, a post he held for seven years. He also appeared with most other state philharmonic's throughout Romania, including a national broadcast on State Television of the Mahler First Symphony with the Ploiesti Philharmonic. These many successes helped bring him to the attention of the eminent conductor Sergiu Comissiona, who invited him to be his assistant with the Houston Symphony Orchestra.
Daniel Spalding is a visionary and orchestra builder. As founder of the Philadelphia Virtuosi Chamber Orchestra in 1991, he quickly secured international acclaim for his innovative programming and electrifying performances. Over the years he won grants from the National Endowment for the Arts, the PEW Foundation, the Aaron Copland Fund for American Music, the Frank & Lydia Bergen Foundation, the Pennsylvania Council on the Arts, and many others in order to support the orchestra's local programs. Mr. Spalding has taken the Philadelphia Virtuosi to prestigious venues such as New York's Lincoln Center, Weill Hall at Carnegie Hall, Columbia University's Miller Theater, and twice to the Kravis Center for the Performing Arts in West Palm Beach, where it was acclaimed by the Palm Beach Daily News as the classical performance highlight of the season. Since 1996, the orchestra has performed in 26 states including performances in major metropolitan centers such as New York, Los Angeles, San Francisco, Portland, Chicago, Miami, and Phoenix. Internationally, Daniel Spalding has taken the orchestra to the Bermuda Festival of the Performing Arts and on three extensive tours to South America, where they have performed at many important international festivals and appeared on Brazilian National Television. In 2009 they will be touring Spain.
Daniel Spalding is well known as a recording artist having secured an impressive international reputation through a series of CDs with the Philadelphia Virtuosi on Connoisseur Society, Naxos, and New World Records. Pianoforte (UK) described their debut CD (Shchedrin's Carmen), which was a Grammy finalist, as "a real success…a delight, full of fresh ideas…highly polished," and the American Record Guide called it "powerful…highly entertaining and exciting." His recording of the music of American composer George Antheil for Naxos American Classics (including the enigmatic Ballet Mecanique) was "Editor's Choice" for Gramophone and "highly recommended" by BBC Radio 3. Commenting that "Spalding gives a stunningly tight performance, captivating the listener throughout," the London Observer named it as one of the best recordings of the year. It was acclaimed as one of the top 10 classical CD's of 2001 by the Chicago Tribune and was a best selling album in the UK and has remained one of Naxos' most popular CDs in the United States. Daniel Spalding's newest releases include another all George Antheil album for New World Records and an all Howard Hanson album on Naxos American Classics, both of which have received many favorable reviews. One of Daniel Spalding's latest projects is his world premiere recording of the Vittorio Giannini Piano Concerto & Symphony No. 4 with England's Bournemouth Symphony, a highly anticipated CD which will be released in early 2009 on Naxos. He has also recently recorded with the London Symphony Orchestra for Vienna Modern Masters. In addition to his many CD recordings, Mr. Spalding recently led the Philadelphia Virtuosi in a live performance that was broadcast on National Public Radio's program "Performance Today."
Daniel Spalding has guest conducted leading orchestras as well as opera and ballet companies throughout Europe and North America. Notable appearances include a sold out, standing room only performance of the Mozart Requiem at Eglise de la Madeleine in Paris, an extended run of The Nutcracker with the Madison Ballet (Wisconsin Chamber Orchestra), Il Trovatore with the Kolozvar Hungarian State Opera, and Music from the Movies with the Sacramento Symphony. Early in his career, Daniel Spalding was recommended by Aaron Copland to present an All-American Concert with the Belgrade Philharmonic that was broadcast world-wide on Voice of America, including the rarely heard Copland Piano Concerto and the Yugoslavian premiere of John Adams' Short Ride in a Fast Machine. He made his debut in England with the Guildford Philharmonic and has appeared several times as a guest conductor with the London Mozart Players at St. Martin-in-the-Fields. He often conducts in Russia where he has appeared with the National Russian Philharmonic in Tomsk and the Symphony Orchestra of the State Academic Cappella of St. Petersburg. In recent years he has collaborated extensively with the Polish Philharmonic of Opole, where he conducts each season.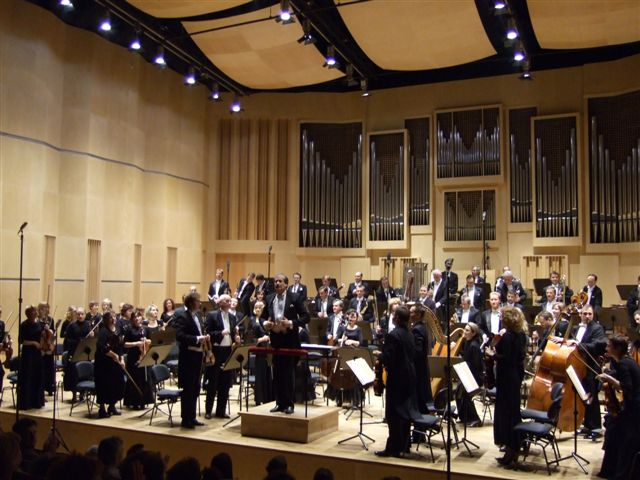 Taking a bow at the Opole Philharmonic
Sought after as an educator, Daniel Spalding is an experienced motivator and teacher. Since his first academic appointment at age 23 as the youngest faculty member ever at Western Illinois University, he served on the faculty at the University of Tennessee at Chattanooga, Illinois State University, and Stephen F. Austin State University, where he helped found the first university-community orchestra. His work with the New Jersey State Youth Orchestra brought tremendous growth to that organization including the establishment of a summer string music camp, field trips and tours. In the space of five years he changed the student orchestra at the College of New Jersey from a small string ensemble into a full fledged symphony orchestra that performed major repertoire. While at the College of New Jersey he also served on the faculty of the New Jersey Governor's School of the Arts. Several times he has been a pre-concert lecturer for the Philadelphia Orchestra and has lectured at City University of London, Westminster Choir College, and other leading institutions. He has guest conducted the New Jersey and Kansas All-State Orchestras, and a number of regional orchestras and university orchestras across the nation, including the University of Illinois Symphony at the Krannert Center for the Performing Arts. In 2007 Mr. Spalding traveled to Uganda, where he gave conducting master classes for the Kampala Music School and helped organize and conduct the first orchestral/massed choir concert ever to take place in that city. In demand as a clinician and adjudicator, since 1973 he has participated in over 250 music festivals throughout North and South America and Europe.
Born in Wichita, Kansas, Daniel Spalding is a member of the Wyandotte Indian Tribe of Oklahoma. He currently resides in New Jersey with is wife, the Romanian born concert pianist Gabriela Imreh, who often performs with her husband and the PVCO on their many tours.
Vittorio Giannini: Piano Concerto (1934), Symphony No. 4 (1959), Bournemouth Symphony Orchestra, Gabriela Imreh, piano, Naxos American Classics, 2009
These world premiere performances give off an aura of undeviating focus and dedication. . . Daniel Spalding and his English musicians offer clear but idiomatically cogent readings. The Naxos acoustic does full justice to their admirable efforts. This release is one to help revise our overall view of American music in mid 20th century, and let us hope it is a harbinger of more Giannini to come.
Paul A. Snook, Fanfare
The Concerto is a masterpiece of twentieth-century music in my opinion. This 41-minute concerto is steeped in the Rachmaninoffian tradition. It is imbued with gorgeous melodies and powerful climaxes. It contains a lush slow movement and has a thrilling coda which leaves the listener breathless and in awe. . . The Bournemouth Symphony sounds full and up to the task of framing the soloist in this grand-scale, grandly-wrought Piano Concerto. Don't miss this Naxos disc!
Lance G. Hill, Classical Music Guide
The Bournemouth Symphony, one of the most versatile orchestras around, handles both works with fine attentiveness, its sections excellently balanced in the symphony and its accompaniment well proportioned in the concerto. Gabriela Imreh plays very well indeed, and Daniel Spalding is a fine conductor who seems thoroughly to understand Giannini's music.
Infodad.com, (TransCentury Communications)
Both Spalding and Imreh deserve great praise for bringing us superb performances of such highly expressive, heartfelt music. Spalding provides a respectful and well-balanced reading to the music. . . The playing of the Bournemouth Symphony is what this writer has come to expect of that organization…flawless.
Karl Miller, Classical Net
Conductor Daniel Spalding gets the British Bournemouth Symphony Orchestra to play as if to the American manner born. . . Please Naxos, give us the other four Giannini symphonies with these same forces.
Robert R. Reilly, Inside Catholic.com>
Conductor Daniel Spalding and the Bournemouth Symphony Orchestra provide [Gabriela Imreh] with outstanding support, and give us a stirring account of the symphony.
Bob McQuiston, Classical Lost and Found
Composed in 1934, the piano concerto was premiered in 1937 by no less than Rosalyn Tureck (later a famous Bach specialist) with Leon Barzin leading his National Orchestral Association. . . But it became a lost work, until conductor Daniel Spalding's considerable research in library archives. . . the Bournemouth Symphony under Spalding acquits itself very well indeed.
Joe Milicia, Enjoy the Music.com (5 out of 5 for performance)
The Orchestra of Bournemouth, the workhorse of the British Orchestras and guided by Daniel Spalding, is skillful in its execution, making a convincing case that this music deserves to be heard throughout the world almost fifty years since its first performance.
Siebe Riedstra, Opus Klassiek (NETHERLANDS)
The Bournemouth Symphony under Daniel Spalding play this rewarding music very well indeed, clearly enlivened by the joy of discovery, and Naxos's recording is detailed, potent, and truthful. . .
Mark Lehman, Absolute Sound Magazine
George Antheil: Piano Concerto No. 2, Serenade No. 2, Dreams Ballet, Philadelphia Virtuosi Chamber Orchestra, Guy Livingston, piano, New World Records, 2006
Spalding and his Philadelphians do the music proud. They capture the energy and impatience of Antheil's musical imagination.
Classical CD Review
It is clear that, six years after their original recordings, Spalding and the Philadelphia Virtuosi are still right in the groove of Antheil's eclectic idiom. Their performances sound well prepared and impeccably executed. . . Guy
Rickards, Tempo (Cambridge University Press)
The Philadelphia Virtuosi Chamber Orchestra, under its founder Daniel Spalding, plays these difficult scores with exceptional insight, insouciance, and brio. This ensemble must be among the most brilliant and adventurous of its kind in this country.
Paul A. Snook, Fanfare
Livingston and Spalding already have established themselves as Antheil specialists, and the performances here completely live up to expectations. Spalding's CD of Antheil's infamous Ballet mécanique (Naxos 8.559060) won all kinds of accolades, and there's no reason why this one shouldn't as well.
Raymond Tuttle, Fanfare
This music is for virtuosos only, and these Philadelphians certainly live up to their name . . .
Bob McQuiston, Classical Lost and Found
Howard Hanson: Nymph & Satyr Ballet, Concerto for Organ, Harp, & Strings, Fantasy Variations on a Theme of Youth, Serenade for Flute, Harp, & Strings, Pastorale for Oboe, Harp, & Strings, Summer Seascape No. 2, Philadelphia Virtuosi Chamber Orchestra, Naxos, 2006
THIRD ANNUAL WRITERS' CHOICE AWARD FOR BEST CD OF 2006! Positive Feedback Online's writers' choice music awards for 2006 is the Naxos (American Classics Series) release of music by Howard Hanson. All [works] are excellently performed by the soloists and the Philadelphia Virtuosi Chamber Orchestra conducted by Daniel Spalding . . . Highest recommendation . . .
Karl Lozier, Positive Feedback Online (A Creative Forum for the Audio Arts)
Daniel Spalding and his musicians are suburb interpreters. Even if you have all the Hanson symphonies and more, you'll want to add this.
Philip Haldeman, American Record Guide
Naxos located a superb foil in the Philadelphia Virtuosi Chamber Orchestra under Daniel Spalding. . . Naxos' recording is warm, up-close, and the Philadelphia Virtuosi Chamber Orchestra sounds like a bigger band than it is, which is the mark of any great chamber orchestra.
David Lewis, All Music.com
The Philadelphia Virtuosi, founded in 1991 by conductor Daniel Spalding, is a fine chamber orchestra, and already has made its mark on CD with an excellent recording of music by George Antheil (Naxos 8.559060). All of the performances have been given a caring touch, and are played with the simple eloquence they need. Hanson, a Nebraskan with Swedish roots, would have appreciated the plain-spoken eloquence of these readings.
Raymond Tuttle, Classical.net
The sound is balanced and lush—and the playing by everyone involved is superior. I'm a Hanson fan and a sucker for this kind of music. I was just pleasantly surprised by the Philadelphia Virtuosi Chamber Orchestra. Two words remain: Encore! and More!
Paul Cook, Music Web International
NOV 2006 CD HOT PICK Though most are works for chamber orchestra and solo instruments, Hanson's unabashed romanticism helps to flesh out the music. The works' sums definitely sound larger than the parts on the page. He's helped out immensely by Spalding and Philadelphia Virtuosi Chamber Orchestra. They really dive into the music's lush textures with relish. Things are never muddy though; on the contrary, Spalding and forces are models of clarity, picking out the fine details of Hanson's well-crafted orchestrations.
Nebraska National Public Radio, publicbroadcasting.net
George Antheil: Ballet Mecanique, Serenade No. 1, Concert for Chamber Orchestra, Symphony for Five Instruments, Philadelphia Virtuosi Chamber Orchestra, Naxos, 2001
EDITOR'S CHOICE (November, 2001) More colorful, inventive music from one of last century's maverick's, played with great commitment by this Philadelphia group. Spalding secures a zestful performance from the Philadelphia Virtuosi. Characterful and well-prepared performances.
Richard Whitehouse, Gramophone (Also chosen as one of the top 5 CD's for 2001)
ARTISTIC QUALITY 10/SOUND QUALITY 10 Spalding and the Philadelphia Virtuosi Chamber Orchestra play these diverse works with affection and relish . . . A winner in every respect, this disc should go far toward supporting the ongoing rehabilitation of this seminal figure in 20th century music.
David Hurwitz, Classics Today
ONE OF THE YEAR'S TOP 10 CLASSICAL CD'S OF 2001 Here's a snappy new recording of the self-styled 'bad boy' composer's infamous "Ballet Mecanique" (in a 1953 revision) along with a useful survey of Antheil's neo-classical works from the 30's and 40's. Everything is well played and enjoyable.
John von Rhein, Chicago Tribune
The Philadelphia Virtuosi Chamber Orchestra performs with obvious dedication. . . Spalding secures execution that is gallant in feeing, stylish in its turn of phrase, and yet underpinned by real affection.
David McKee, American Record Guide
CD OF THE MONTH Daniel Spalding directs his accomplished Philadelphia ensemble in a clear, tight performance. (****)
Anthony Burton, BBC Music Magazine
And who better to play this music than a young and enthusiastic group from George Antheil's homeland, the Philadelphia Virtuosi Chamber Orchestra conducted by Daniel Spalding. This is their first disc for Naxos and will not be their last. They are indeed a group of virtuosi with a tremendous sense of ensemble and rapport. Please let us have more from them.
Gary Higginson, Classical Music Web
Spalding gives a stunningly tight performance, captivating the listener throughout. . .
Tarik O'Regan, London Observer
Daniel Spalding leads the Philadelphia Virtuosi in an exhilaratingly energetic and stunningly well-synchronized performance . . . Antheil's Ballet Mecanique overwhelms the listener with its infectious vitality and futuristic/primitivistic enthusiasm.
Royal S. Brown, Fanfare
Daniel Spalding directs an accomplished performance, clearly articulated, with plenty of vitality. . . excellent ensemble playing and intonation of the Philadelphia ensemble. . . the recording is sympathetic and atmospheric, one of the best that Naxos has produced.
Terry Barfoot, Classical Music Web
The New Jersey-born, Paris trained composer George Antheil is treated royally in a new compact disc by the Philadelphia Virtuosi Chamber Orchestra under Daniel Spalding. . . all (works are) marvelously performed by this much-admired local group. This is powerful music making not heard on a regular basis. John Lane, Globe Times (Philadelphia)
Tchaikovsky Souvenir de Florence, Mendelssohn Octet, Philadelphia Virtuosi Chamber Orchestra, Connoisseur Society, 1998
This is a bright, airy, breezy, but crisply articulated performance. The first movement is open and expansive but keeps moving and never gets bogged down. Mr. Spalding and his players know where they're supposed to go with it. The Andante is warm and lyrical—a gentle song without words. The scherzo is lightly textured but elfin and whimsical, just as Mendelssohn meant it to be. . . The finale is all busting youthful energy and unclouded exuberance. This is a beautiful performance."
Lawrence Hansen, American Record Guide
The Souvenir of Florence is a minor masterpiece. . . Mendelssohn's Octet, with its elfin grace and buoyant high spirits, is one of the treasures of music. Daniel Spalding and his 13 Philadelphians play with verve and polish.
John Bauman, Fanfare
Bizet-Shchedrin Carmen Ballet, Liszt-Spalding, Hungarian Fantasy, Philadelphia Virtuosi Chamber Orchestra, Gabriela Imreh, piano, Connoisseur Society, 1997
The Shchedrin is a delight, full of fresh ideas joyfully conveyed by the orchestra and in a recording where every aspect is heard with absolute clarity. . . the orchestra is never less than attentive and highly polished.
NP, Pianoforte (UK)
The performance is smartly paced and polished…there is much to be enjoyed here. This take on the Hungarian Fantasy is highly entertaining and exciting. . . if you thought this piece not longer holds any surprises for you, listen to this.
Lawrence Hansen, American Record Guide
Daniel Spalding is one of the most innovative conductors on today's music scene…Evocative lighting effects enhanced the entire concert. Daniel Spalding is clearly rethinking the concert format. His combination of interesting programming, thoughtful commentary, and flamboyant musicianship were altogether winning. A great holiday musical package!
Lawrence Budman (Critic for Miami Herald, Florida)
The artistic maturity of Daniel Spalding was displayed most definitely in Brahms' Symphony No. 3. Here the conductor has the task of providing the music with its own special spiritual climate, and that is just where Daniel Spalding came up with a perfectly balanced overall vision with a rare unity of style. He gave life to the sonorities and texture of the work giving of his own vitality coloring this densely complicated orchestration with an airy lucidity which was abundant in its lyricism and warmth. His interpretation was original in its fullness and poetic charm."
Faclia, Cluj-Napoca, Romania
What was supposed to be a fundraising show turned out to be an evening of great classical music. The Charity Music Concert raised funds for Kampala Music School and Uganda Women's Effort to Save Orphans at the Sheraton Hotel on Thursday…Spalding's baton conducted the Kampala Music School Orchestra, made up of young student musicians and teachers in a cohesive unit. Their precision was astonishing.
The New Vision, Kampala, Uganda
I've seen several conductors lead their orchestras from the harpsichord or the piano, Baroque-style. Daniel Spalding trumped them all when he announced he was going to resurrect his youthful training and conduct the Philadelphia Virtuosi Chamber Orchestra from the snare drum. Spalding's stunt worked because the piece in question was Ravel's Bolero, in which the snare drum taps away through the entire score. His tour de force contributed some useful charm to one of the more over-familiar works in the repertoire. Seated in front of his orchestra, his back to his young musicians, Spalding looked like he was leading a village band through one of its local dance numbers. The other items on the Virtuosi program were Ravel's Mother Goose Suite and a suite by Debussy. Both received solid performances…
Broad Street Review, Philadelphia, Pennsylvania
Daniel Spalding and the orchestra performed with extraordinary virtuosity, drawing incessant and warm applause from the public.
Voce Vai, Campos Dos Jordao, Brazil
Conductor Daniel Spalding found a lovely, buoyant pulse that made the music sing. . . the exotic, staggering beauty of Mahler was conveyed with amazing precision and concentration.
City Paper, Philadelphia, Pennsylvania
The coordinator of this interpretation, full of sonorous fantasy, was the American Daniel Spalding, a young maestro, but self assured, colorful, and full of fire.
Telegraf, Constanza, Romania
Breathtaking… a well deserved encore and several curtain calls.
The Royal Gazette, Bermuda
The musicians under Daniel Spalding seemed to be enjoying themselves as much as the audience members were. . . the performance was marvelous.
The Times, Trenton, New Jersey
Maestro Spalding directed the orchestra in a spontaneous manner and with great ease. . . the audience was moved by a performance full of passion, lyricism, and warmth.
Nowa Trybuna Opoleska, Poland
Under the baton of their conductor, Daniel Spalding, the ballet Carmen resulted in a vibrant exploration of these well-traveled melodies and rhythms. Palpitating, vigorous, with impeccable cohesion and tuning, this first piece by the Virtuosi was received with great enthusiasm.
Miami Herald, Florida
The 26th Bermuda Festival got off to a rousing start with the Philadelphia Virtuosi Chamber Orchestra's performance. Mr. Spalding led a score that was at turns languid, fast and fierce. . . Overall, this is as rocking as one would imagine a chamber orchestra could get—a fact underscored by the long, standing ovation that closed the evening.
Bermuda Sun
The performance of the orchestra as a whole was of the highest quality throughout this most artful of pieces, and Spalding's conducting throughout the evening was subtle, nuanced and showed perfect command of this mostly young, masterful ensemble.
Reading Eagle, Pennsylvania
Strikingly fine playing by the musicians and Spalding's sympathetic conducting contributed greatly to the impact of the program. . . The audience responded enthusiastically to the music, calling the performers back for a repeat bow at the finish.
The Times, Trenton, New Jersey
SPECTACULAR "NUTCRACKER" PROVIDES A DELICIOUS ESCAPE (headline) Friday night's performance of the "Nutcracker" was reminiscent of a song from "A Chorus Line," which goes, "Everything was beautiful at the ballet." With fancy sets, lovely costumes and glorious dancing (including guest artist Ethan Stiefel of American Ballet Theatre), "Nutcracker" provides a delicious escape. The production is elaborate. . Live music completes the enchantment. The Wisconsin Chamber Orchestra graces the pit, with Daniel Spalding conducting. . . "Nutcracker" is flawless.
Capital Times, Madison, Wisconsin
The profound dramatic character of Beethoven's Fifth shone forth thanks to conductor Dan Spalding's perfect understanding of the work. From the very first opening notes, his well-designed delineation was underlined by precision which was carefully balanced between the winds and the strings. The conductor's expressive baton technique brought cohesiveness to the maximum. Dan Spalding and the Orchestra gave a brilliant performance. The large and enthusiastic audience rewarded him with prolonged applause.
Szatmari Hirlap, Satu-Mare, Romania
For worldwide bookings, please contact:
Jack Price
Price Rubin & Partners
Phone: 800-888-3360
email: [email protected]
www.pricerubin.com
For bookings in Latin America
Enrique De Quesada
Av. Principal de la Ciudadela, Quinta Taxco – La Ciudadela
1080 – Caracas, Venezuela
Phone: +58 212 979 6863
email: [email protected]
For bookings in Western Europe (except Spain)
Melos Konzerte Wien
Christian May
Salesianergasse 12/11
A-1030 Vienna
Austria
email: [email protected]
tel: (43) 1 714 91 96
fax: (43) 1 714 91 91
For bookings in Spain
Ricardo de Quesada
Hispania Clasica
Los Madrazo 16
28014 Madrid
Spain
Tel: (34) 91-429-26-25
Fax: (34) 92-429-26-30
email: [email protected]
www.hispaniaclasica.com