CD Information
Naxos American Classics CDs (Hanson & Antheil) are $10.00 plus $2 shipping and handling. All other CDs are $15.00 plus $2 shipping and handling.
ORDER FIVE OR MORE DISCS AND RECEIVE FREE SHIPPING!
You will be billed upon receipt. Checks only; no credit cards, please.
To order please send an email with your request to: [email protected]
To hear a sample of the music, click any of the underlined links below.
George Antheil (Newly Released September 2006)
Dreams, Piano,Concerto No. 2, Serenade No. 2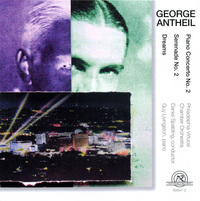 George Antheil (1900-1959)
Dreams (1935) 28:18
1. Introduction
2. Andante
3. Polka
4. Rat
5. Acrobat
6. The King's March
7. Can-Can
8. Valse
9. Finale & Epilogue
Piano Concerto No. 2 (1926-27) 21:40
Guy Livingston, piano
10. Moderato
11. Largo
12. Allegro
Serenade No. 2 for Chamber Orchestra (1949)
13. Moderately Fast
14. Slow
15. Quite Fast
Reviews:
The Philadelphia Virtuosi Chamber Orchestra, under its founder Daniel Spalding, plays these difficult scores with exceptional insight, insouciance, and brio. This ensemble must be among the most brilliant and adventurous of its kind in this country.
– Paul A. Snook, Fanfare
Livingston and Spalding already have established themselves as Antheil specialists, and the performances here completely live up to expectations. Spalding's CD of Antheil's infamous Ballet mécanique (Naxos 8.559060) won all kinds of accolades, and there's no reason why this one shouldn't as well.
– Raymond Tuttle, Fanfare
Spalding leads the Philadelphia Virtuosi Chamber Orchestra in energetic, intermittently blustery performances. This disc provides a valuable take on Antheil with the Dreams ballet a work worthy of rediscovery.
– Lawrence A. Johnson, Gramophone
Daniel Spalding leads his orchestra in performances that make a strong case for all three pieces. . . Strongly recommended.
– Robert McColley, Fanfare
Antheil was a chameleon, a showman, and sometimes a comedian; the Philadelphia Virtuosi take him at face value and give him the kind of earnest reading he yearned for.
– Ian Quinn, American Record Guide
Spalding and his Philadelphians do the music proud. They capture the energy and impatience of Antheil's musical imagination. You realize that even in his later, more conservative idioms, Antheil retained the soul of the provocateur.
– Classical CD Review
It is clear that, six years after their original recordings, Spalding and the Philadelphia Virtuosi are still right in the groove of Antheil's eclectic idiom. Their performances sound well prepared and impeccably executed.
– Guy Rickards, Tempo (Cambridge University Press)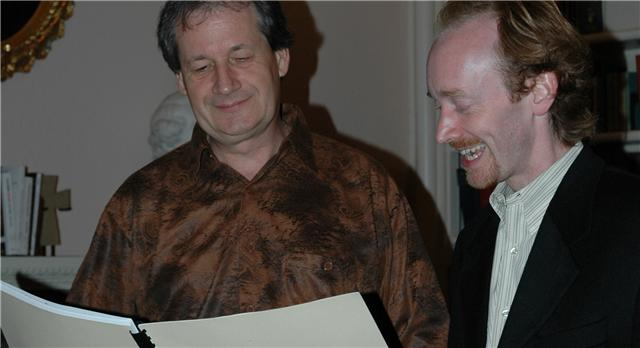 Daniel Spalding & Guy Livingston during the Antheil recording session
Howard Hanson (Newly Released July 2006)
Organ Concerto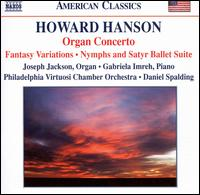 1. Concerto for Organ, Strings and Harp, Op. 22 No. 3
Joseph Jackson, Organ (16:09) Nymphs and Satyr Ballet Suite (12:51)
2. I. Prelude/II. Fantasy for Clarinet (7:29)
3. III. Scherzo for Bassoon (3:02)
4. IV. Epilog (2:20)
Doris Hall-Gulati, Clarinet, Holly Blake, Bassoon
5. Fantasy Variations on a Theme of Youth. Op. 40 (11:00)
Gabriela Imreh, piano
6. Serenade for Flute, Harp and Strings, Op. 35 (5:31)
Andrew Bolotowsky, Flute
7. Summer Seascape no 2 for Viola and Strings (8:28)
Adriana Linares, Viola
8. Pastorale for Oboe, Harp and Strings, Op. 38 (7:29)
Johathan Blumenfeld, Oboe
Reviews:
Naxos located a superb foil in the Philadelphia Virtuosi Chamber Orchestra under Daniel Spalding. . . Naxos' recording is warm, up-close, and the Philadelphia Virtuosi Chamber Orchestra sounds like a bigger band than it is, which is the mark of any great chamber orchestra.
– David Lewis, AllMusic.com
The Philadelphia Virtuosi, founded in 1991 by conductor Daniel Spalding, is a fine chamber orchestra, and already has made its mark on CD with an excellent recording of music by George Antheil (Naxos 8.559060). All of the performances have been given a caring touch, and are played with the simple eloquence they need. Hanson, a Nebraskan with Swedish roots, would have appreciated the plain-spoken eloquence of these readings.
– Raymond Tuttle, Classical.net
THIRD ANNUAL WRITERS' CHOICE AWARD FOR BEST CD OF 2006!
My first selection for Positive Feedback Online's writers' choice music awards for 2006 is the Naxos (American Classics Series) release of music by Howard Hanson. All [works] are excellently performed by the soloists and the Philadelphia Virtuosi Chamber Orchestra conducted by Daniel Spalding. The sound quality is simply superb and cannot be faulted in any way. Highest recommendation…
– Karl Lozier, Positive Feedback Online (A Creative Forum for the Audio Arts)
ARTISTIC QUALITY 9/SOUND QUALITY 10
These are eminently worthy performances, very well recorded and you will certainly enjoy this and I recommend it to you without hesitation.
– David Hurwitz, Classics Today
BARGIN OF THE MONTH!
Though Naxos is a lower mid-price label, for more than a decade they've been putting out some of the best music on the market. This disc is one of those excellent productions. The sound is balanced and lush—and the playing by everyone involved is superior. I'm a Hanson fan and a sucker for this kind of music. I was just pleasantly surprised by the Philadelphia Virtuosi Chamber Orchestra. Two words remain: Encore! and More!
– Paul Cook, Music Web International
Daniel Spalding and his musicians are suburb interpreters. The sound is some of the best I've heard from this best-known bargain label. Even if you have all the Hanson symphonies and more, you'll want to add this.
– Philip Haldeman, American Record Guide
NOV 2006 CD HOT PICK
While there's no lack of symphonic recordings in print, this collection offers a chance to hear the actual depth of his orchestral output. Though most are works for chamber orchestra and solo instruments, Hanson's unabashed romanticism helps to flesh out the music. The works' sums definitely sound larger than the parts on the page. He's helped out immensely by Spalding and Philadelphia Virtuosi Chamber Orchestra. They really dive into the music's lush textures with relish. Things are never muddy though; on the contrary, Spalding and forces are models of clarity, picking out the fine details of Hanson's well-crafted orchestrations. The soloists are all first rate as well.
– Nebraska National Public Radio, publicbroadcasting.net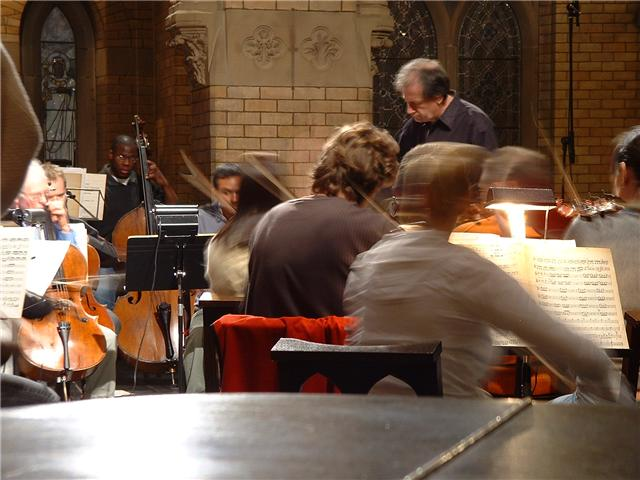 The Hanson recording session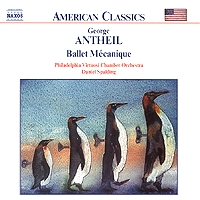 GEORGE ANTHEIL
Ballet Mecanique
Ballet Mecanique 15:58
Serenade for String Orchestra No.1
I: Allegro 03:30
II: Andante molto 07:36
III: Vivo 04:32
Symphony for Five Instruments (Second Version)
I: Allegro 05:02
II: Lento 04:19
III: Presto 02:30
Concert for Chamber Orchestra
Concert for Chamber Orchestra 15:38
Reviews:
EDITOR'S CHOICE (November, 2001)
More colorful, inventive music from one of last century's maverick's, played with great commitment by this Philadelphia group. Spalding secures a zestful performance from the Philadelphia Virtuosi. Characterful and well-prepared performances.
– Richard Whitehouse, GRAMOPHONE (Also chosen as one of the top 5 CD's for 2001)
ARTISTIC QUALITY 10/SOUND QUALITY 10 Spalding and the Philadelphia Virtuosi Chamber Orchestra play these diverse works with affection and relish. . . A winner in every respect, this disc should go far toward supporting the ongoing rehabilitation of this seminal figure in 20th century music.
– David Hurwitz, CLASSICS TODAY
ONE OF THE YEAR'S TOP 10 CLASSICAL CD'S OF 2001 Here's a snappy new recording of the self-styled 'bad boy' composer's infamous "Ballet Mecanique" (in a 1953 revision) along with a useful survey of Antheil's neo-classical works from the 30's and 40's. Everything is well played and enjoyable.
– John von Rhein, CHICAGO TRIBUNE
The Philadelphia Virtuosi Chamber Orchestra performs with obvious dedication. . . Spalding secures execution that is gallant in feeing, stylish in its turn of phrase, and yet underpinned by real affection.
– David McKee, AMERICAN RECORD GUIDE
CD OF THE MONTH
Daniel Spalding directs his accomplished Philadelphia ensemble in a clear, tight performance. (****)
– Anthony Burton, BBC MUSIC MAGAZINE
And who better to play this music than a young and enthusiastic group from George Antheil's homeland, the Philadelphia Virtuosi Chamber Orchestra conducted by Daniel Spalding. This is their first disc for Naxos and will not be their last. They are indeed a group of virtuosi with a tremendous sense of ensemble and rapport. Please let us have more from them.
– Gary Higginson, CLASSICAL MUSIC WEB
CD OF THE MONTH
Spalding gives a stunningly tight performance, captivating the listener throughout. . .
– Tarik O'Regan, THE LONDON OBSERVER
Daniel Spalding leads the Philadelphia Virtuosi in an exhilaratingly energetic and stunningly well-synchronized performance recorded with exceptional fullness and thump by the Naxos engineers. Antheil's Ballet Mecanique overwhelms the listener with its infectious vitality and futuristic/primitivistic enthusiasm.
– Royal S. Brown, FANFARE
FEATURED DISC OF THE MONTH
Spalding and his Philadelphians are feisty enough in the Ballet, refined and reflective in the other works. This is a great chance to check out one of the least heard but most notorious works of the 20th century.
– Andrew MacGregor, presenter of BBC Radio 3's CD Review
Daniel Spalding directs an accomplished performance, clearly articulated, with plenty of vitality. . . excellent ensemble playing and intonation of the Philadelphia ensemble. . . the recording is sympathetic and atmospheric, one of the best that Naxos has produced.
– Terry Barfoot, CLASSICAL MUSIC WEB
The New Jersey-born, Paris trained composer George Antheil is treated royally in a new compact disc by the Philadelphia Virtuosi Chamber Orchestra under Daniel Spalding. . . all (works are) marvelously performed by this much-admired local group. This is powerful music making not heard on a regular basis. John Lane, GLOBE TIMES (Philadelphia)
– RECORDS TO DIE FOR
This stunning recording of Ballet Mecanique will give your audio system a workout. . Another fine disc from Naxos American Classics.
– Robert Baird, STEREOPHILE
The PVCO, conducted by Daniel Spalding, give George Antheil's once notorious Ballet mecanique an exciting and colorful performance for Naxos here. . . With considerable energy and accuracy, the players present the work's audacious effects with appropriate brusqueness and metallic incisiveness, sparing nothing at he music's explosive end.
– Blair Sanderson, ALL MUSIC.COM
An excellently-performed CD by Daniel Spalding and his Philadelphia Virtuosi.
– TUROK'S CHOICE
Piotr Ilyich Tchaikovsky (1840 – 1893) Felix Mendelssohn (1809 – 1847) Souvenir de Florence in D minor, Op. 70 String Octet in E-flat, Op. 20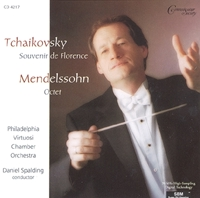 | | |
| --- | --- |
| 1. Allegro con spirito 10:50 | 5. Allegro moderato ma con fuoco 14:38 |
| 2. Adagio cantabile 10:48 | 6. Andante 8:12 |
| 3. Allegretto moderato 6:24 | 7. Allegro leggierissimo (Scherzo) 4:56 |
| 4. Allegro vivace 7:24 | 8. Presto 6:36 |
Reviews:
This is a bright, airy, breezy, but crisply articulated performance. The first movement is open and expansive but keeps moving and never gets bogged down. Mr. Spalding and his players know where they're supposed to go with it. The Andante is warm and lyrical—a gentle song without words. The scherzo is lightly textured but elfin and whimsical, just as Mendelssohn meant it to be. . . The finale is all busting youthful energy and unclouded exuberance. This is a beautiful performance."
– Lawrence Hansen, American Record Guide
The Souvenir of Florence is a minor masterpiece. . . Mendelssohn's Octet, with its elfin grace and buoyant high spirits, is one of the treasures of music. Daniel Spalding and his 13 Philadelphians play with verve and polish.
– John Bauman, Fanfare
Rodion Shchedrin (b. 1932)
Carmen Ballet for Strings & Percussion (after Bizet)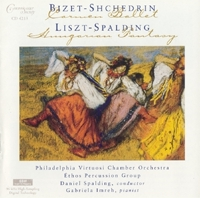 1. Prelude 10:50
8. Bolero 14:38
2. Dacnce 10:48
9. Toreador 8:12
3. First Intermezzo 6:24
10. Toreador & Carmen 4:56
4. Changing of the Guard 7:24
11. Adagio 6:36
5. Entrance of Carmen & Habanera 2:57
12. Fortune-Teller 3:38
6. Scene 5:24
13. Finale 5:42
7. Second Intermezzo 1:50
Franz Liszt (1811-1886)
Hungarian Fantasy for Piano and Orchestra (arranged for Piano, Strings and Percussion by Daniel Spalding – Gabriela Imreh, pianist) 16:00
Reviews:
The Shchedrin is a delight, full of fresh ideas joyfully conveyed by the orchestra and in a recording where every aspect is heard with absolute clarity. . . the orchestra is never less than attentive and highly polished.
– NP, Pianoforte (UK)
The performance is smartly paced and polished…there is much to be enjoyed here. This take on the Hungarian Fantasy is highly entertaining and exciting. . . if you thought this piece not longer holds any surprises for you, listen to this.
– Lawrence Hansen, American Record Guide